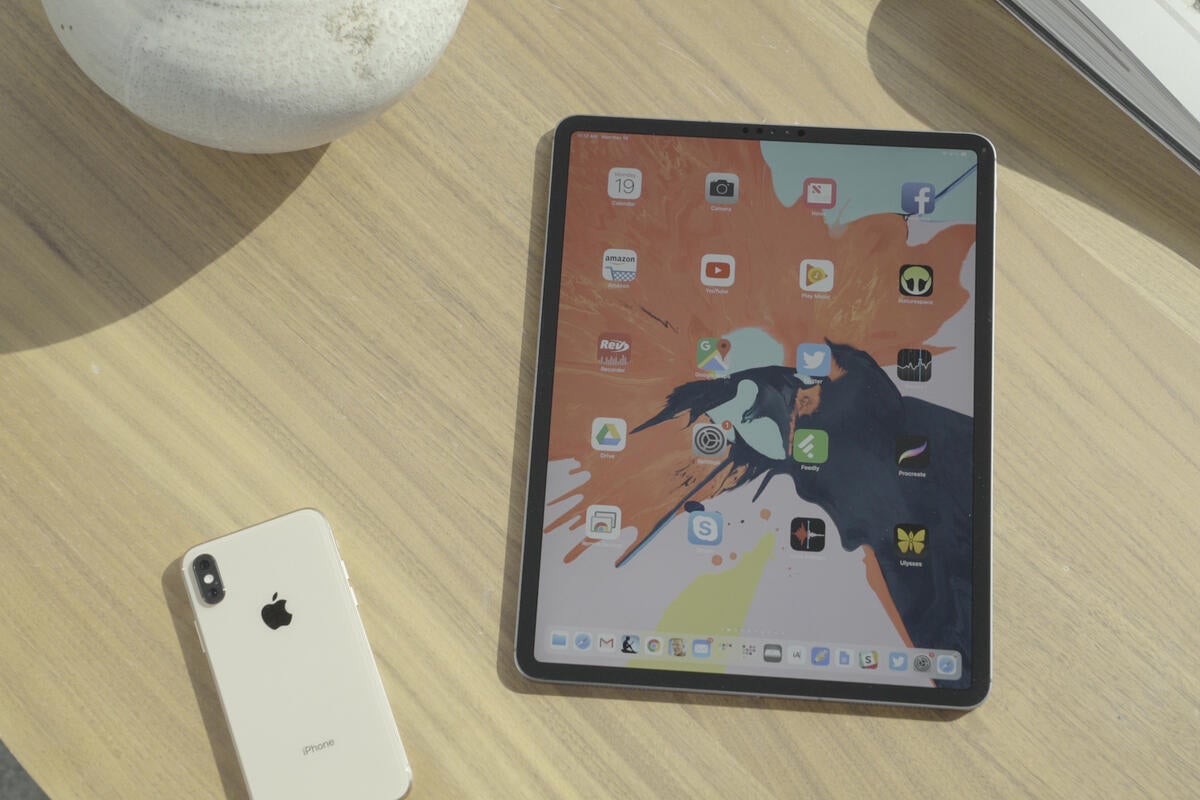 It's easy to be impressed with the new iPad Pro. It's got a speedy processor, it's got Face ID, it's got an expansive display, it's got USB-C, and it supports a greatly improved Apple Pencil. Even so, if you didn't think the iPad Pro fit well into your workflow before, this model isn't likely to change your mind.
Not since iPad 2 has any iPad seen such a massive visual makeover, and I believe it's for the better. The new model comes in both 11-inch and 12.9-inch sizes, and in both cases a lovely display dominates. In the case of the 12.9-inch model I have here, Apple shaved off the forehead and chin from the old models without changing the display dimensions, resulting in a tablet that boasts the same screen space with less unwieldy awkwardness.
Apple stuck with LCD rather than OLED for the display, but it still boasts a massive range of colors and a pixel density of 264 pixels per inch. Apple also likes to say the display goes "edge to edge," but the truth is that you'll still find a thin bezel that hides the Face ID sensors without resorting to a notch. Still, it's a beautiful display, and it helps the iPad Pro feel more like an electronic sheet of paper than ever before.
I also like the new flat edges that were designed to make it easy to attach the Apple Pencil for wireless charging. The iPad looks kind of like a gigantic iPhone 5s with them—which I actually like—and I find it makes it easier to hold the tablet when it's outside a case.
For other goodies, we've got roughly 10 hours of battery life, tweeters and woofers in all four speakers, a 7-megapixel FaceTime and TrueDepth camera, and a decent 12-megapixel rear camera. The camera sticks out a bit, but this doesn't seem to cause problems when writing with the Apple Pencil on a table. Alas, there's no headphone jack, which seems like a strange omission in a "pro" device.
But nothing makes it "pro" quite like the A12X Bionic processor inside. This thing's a beast, and in our benchmarks it performed roughly the same as the new MacBook Pro. As a result, everything from Fortnite to Procreate ran buttery smooth. In fact nothing available for the iPad Pro right now can really push the A12X to its limits, which is why we're excited to see how well it'll run full Adobe Photoshop when it drops next year.
The processor is nice, but it doesn't change the day-to-day experience as much as Face ID. You can use it in any orientation, and it's better than the home button for unlocking the device and viewing the home screen since you're almost always facing the display. As a cool convenience, Apple even thought to make a little arrow pop up when your hand accidentally covers the sensor.
Apple also switched out the old Lightning port for a USB-C port, which support data transfers of 10Gbps and even lets you mirror the display to a 5K monitor. This also means you can hook up a lot more devices than before, such as USB-C SD card readers you normally use with your MacBook. When full Photoshop drops, that'll make it easy to directly hook up USB-C cameras as well.
In practice, though, the USB implementation is hit or miss. Some things work; some things don't. You'll only know if you try. At the moment, I mostly like it because I can charge my iPad much more quickly with my MacBook's charger.
The new Apple Pencil is a complete redesign, and I love it. Because you charge it wirelessly now, there's no longer a cap to lose and you don't need to jam it awkwardly into a port. A new matte coating makes it less slippery, and the pencil is even more useful now, as you can double-tap the barrel to switch between erasing and drawing.
Apple moved the iPad's Smart Connector to the iPad's back, which allows it to make a Smart Keyboard Folio that surrounds the tablet entirely. We lose some of the flexibility of the origami keyboard case as a result, but we also gain more protection. I even enjoy typing on the fabric-covered keyboard, although I'm sometimes frustrated by how stubbornly the iPad's magnets cling to the two adjustment grooves when I'm trying to close it.
Unfortunately all the power in this device doesn't make it less frustrating for some types of work. There's no external mouse or trackpad support. Too many apps still don't support split-view multitasking. Worse, the Files app remains a pain for file management, which may be problematic when real professionals start trying to bring iPad Photoshop into their workflow.
All of this puts as the new iPad Pro in a weird place. It's got a lot of power, but it's also got a lot of frustrations. And that probably wouldn't be so bad if it didn't cost so much. Even the modest 11-inch model starts at $799 with a measly 64GB of storage, but this 12.9-inch model boasts 1 terabyte of storage and LTE support for $1,899. That doesn't even include the $200 Smart Folio and the $129 Apple Pencil. That means I've got more than $2,200 in my hand and I still find myself preferring my MacBook for common tasks like writing.
If you've learned to lived with the limitations of an iPad, you'll find it's a beautiful and powerful device. It makes the iPad exciting again. Artists in particular may find the device to be exactly what they were looking for. But for everyone else, it's best appreciated as a complement to a MacBook rather than a replacement. It's so, so close, but that's not good enough.